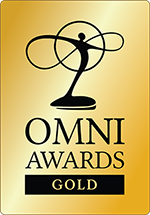 AllergyAware.ca has received two "Gold" Omni Awards for website excellence in the categories of education and health & fitness. The Omni Awards recognize outstanding achievements in film/video, web, and mobile media across North America.
Offered in English and French, AllergyAware.ca features free online courses on managing food allergies and anaphylaxis in the community, schools, and child care settings. The online courses are medically reviewed, mobile-friendly and easy to follow. Each 30-minute course covers the basics of anaphylaxis, ways to reduce risks, and what to do in an emergency.
The courses have been developed by Food Allergy Canada and Leap Learning Technologies Inc. in collaboration with the Canadian Society of Allergy and Clinical Immunology. Review of French language content was provided by the Association of Allergists and Immunologists of Quebec; and research and evaluation assistance was provided by AllerGen NCE (Allergy, Genes and Environment Network) Inc. and the Division of e-Learning Innovation at McMaster University. Funding and other support was provided by provincial and territorial governments, private donors, and premier founding sponsor, TELUS.
Take one of the award-winning online courses today.